DAILY MY2019 MAIN FEATURES
Remaining true to the values that characterized its DNA (reliability, efficiency, versatility), Daily has become the point of reference for innovation in the light commercial vehicle sector.

With Daily MY19, commercial vehicles get closer and closer to the automotive world with all these main features:
SUSTAINABILITY AND PROFITABILITY
The Daily's focus on efficiency delivers a further step towards zero-carbon transport hand in hand with fuel economy that will benefit your bottom line and the top-class performance you need to complete your mission effectively. Design improvements and longer oil change intervals will reduce your maintenance costs, adding to your profitability.
Up to 10% reduction in fuel consumption.
Up to 10% reduction in maintenance costs.
ASSISTED DRIVING AND SAFETY
The Daily makes significant advances on the path towards autonomous driving and safety with the introduction of a complete set of Advanced Driver Assistance Systems. These advance technologies are at your service: they enable you to fully focus on your job, which requires an increasing degree of multitasking, in full safety. They reduce the risk of accidents on motorways and busy city streets, help you in tricky situations and take the stress away in heavy traffic – to the benefit of your quality of life on board and of your business.
Up to 38% accident reduction in urban context with the Advanced Driver Assistance Systems.
* Available only in some versions 
ON-BOARD LIVING AND DRIVING EXPERIENCE
The Daily uses technology to provide a superior driving experience and the perfect working environment. Life on board is easier, more comfortable and more productive than ever.
70% steering effort reduction with the new Electric Power Steering and City Mode.
15% better visibility and obstacle perception with LED lights.
HI-MATIC: ABSOLUTE DRIVING PLEASURE
The Daily's exclusive HI-MATIC 8-speed automatic transmission is available across the range, delivering all the benefits of comfort, safety, fuel economy and performance.
You can also enjoy all these advantages, together with the sustainability and low TCO of IVECO's Natural Power technology.
ENHANCED CONNECTIVITY AND SERVICES
On the Daily, connectivity is much more than using your mobile device onboard. It is the enabler of a whole range of services that allows us to support your business more proactively and effectively, minimising stoppages and maximising your productivity.
More uptime with proactive services.
Optimised efficiency with vehicle status monitoring and Driving Style Evaluation.
* Available only in some versions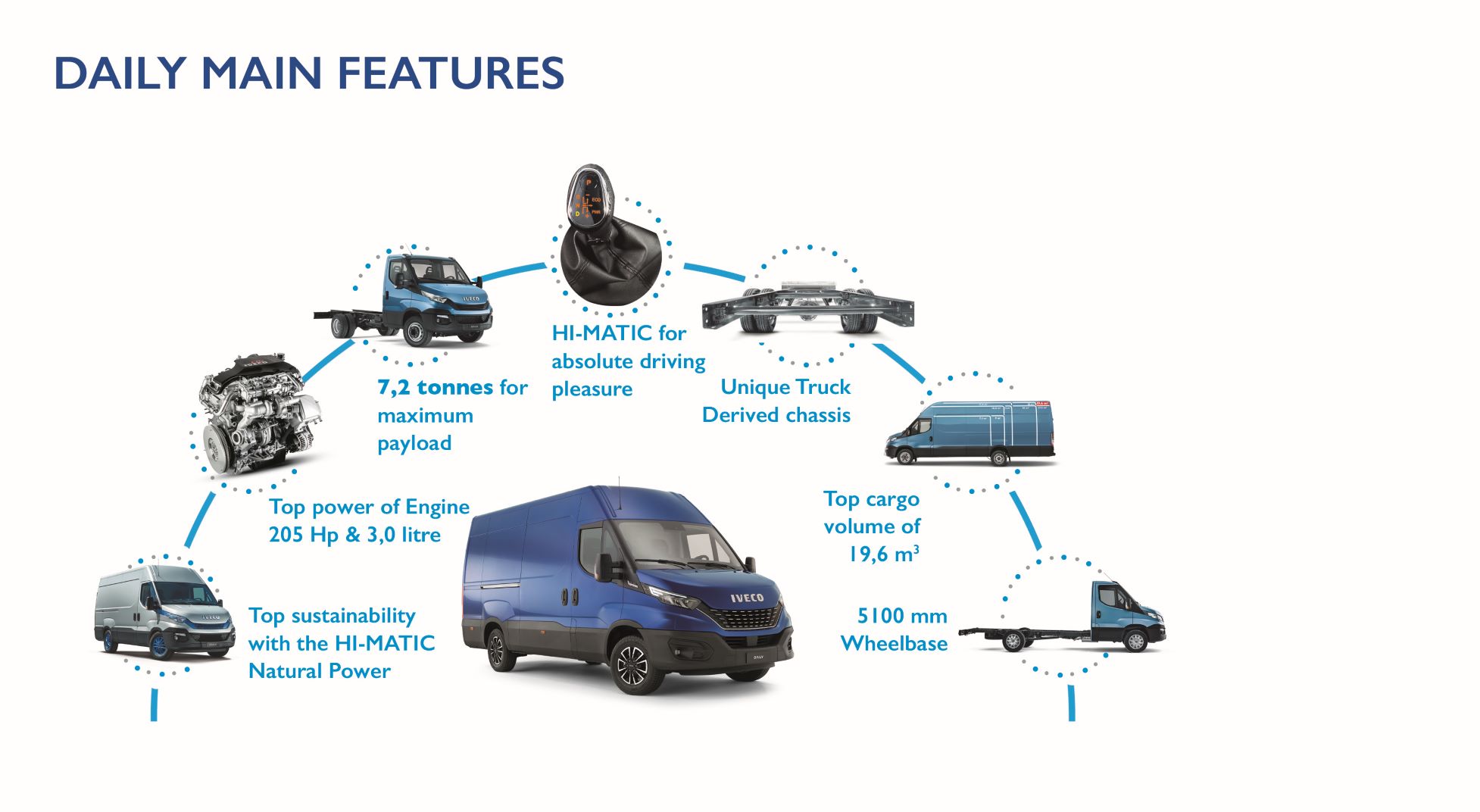 LINK TO INSTITUTIONAL VIDEO